Programs
The AASM Foundation offers community, research and training programs to support our vision of Healthier Lives through Better Sleep. For more than 20 years, we've supported various projects across the spectrum of translational sleep research, clinical and population health and implementation science. We also continue to invest in the careers of our future clinicians and scientists.
Our programs are open for application at different times throughout the year. Complete details on deadlines, topic areas (if applicable) and links to the application can be found under the 'Now Accepting Applications' section.
Now Accepting Applications
The Community Sleep Health Grant is intended to support a wide range of projects spearheaded by community leaders and/or interprofessional individuals (educators, researchers, practitioners, students) who are dedicated to addressing sleep health needs in the community and sustaining population sleep well-being.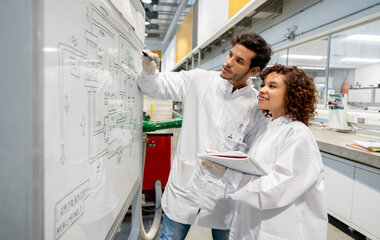 This grant provides additional funds to current AASM Foundation research grant investigators to support mentored sleep and circadian research training of promising students, post-doctoral fellows and clinical fellows who are members of minority groups traditionally underrepresented in US science to participate in AASM Foundation-funded research projects.
This grant provides additional funds to AASM Foundation grant recipients who have encountered challenges with making progress on AASM Foundation-funded research projects due to the COVID-19 pandemic.
The AASM Foundation is partnering with the Sleep Research Society Foundation (SRS Foundation) to fund small research grants in sleep research. The Small Research Grant Program is designed to support the research of trainees and early career investigators who otherwise do not have the institutional resources to support new studies and/or do not have a sustained record of external funding.