Programs
The American Academy of Sleep Medicine Foundation (AASM Foundation) has several different programs in addition to award funding. Additional information about each program can be accessed by clicking the links below. Complete details on deadlines, topic areas (if applicable) and links to the LOI or application forms can be found under the Current Awards section when the award is open for applications.
Current Awards
The Community Sleep Health Award is intended to support a wide range of projects spearheaded by community leaders and/or interprofessional individuals (educators, researchers, practitioners, students) who are dedicated to addressing sleep health needs in the community and sustaining population sleep well-being.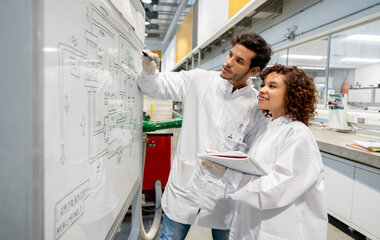 This award provides additional funds to current AASM Foundation research award investigators to support mentored sleep and circadian research training of promising students, post-doctoral fellows and clinical fellows who are members of minority groups traditionally underrepresented in US science to participate in AASM Foundation-funded research projects.
Research Awards
Open to sleep medicine investigators, awards support Career Development and Investigator-Initiated sleep research projects. Learn more about the available awards.
Community Awards
Open to community leaders and organizations paving the way for improving sleep health locally. Additionally, assistance is available to aid sleep centers in wake of natural disasters. Learn more about the available awards.
Training Awards
Open to the next generation of sleep investigators and sleep medicine specialists, these awards provide focused training in sleep research and support sleep medicine fellowship slots at risk of losing funding. Learn more about the available awards.