Research Programs
Career Development Grants
Investigator-Initiated Grants
Jacob Davidson
This grant supports investigator-initiated, high-impact research projects aimed at addressing gaps in knowledge that impact the ability to provide optimal, patient-centered, cost-effective diagnosis and care for patients with sleep disorders. This grant supports projects that are responsive to focused topic areas of interest identified by the AASM Foundation.
Research Supplemental Grants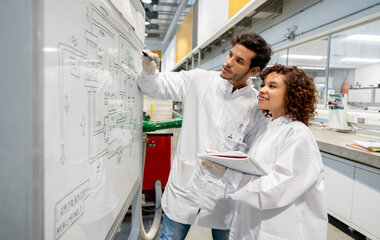 The Diversity Supplement Grant provides an opportunity for sleep and circadian science investigators, who have a funded research program, to support mentored sleep and circadian research training of promising students, post-doctoral fellows and clinical fellows who are members of minority groups traditionally underrepresented in US science to participate in sleep and circadian science research projects.
Collaborative Research Grants
The AASM Foundation has partnered with the CHEST Foundation to jointly fund a research grant in sleep medicine. The American Academy of Sleep Medicine Foundation and CHEST Foundation Research Grant in Sleep Medicine is being administered by the CHEST Foundation and focused on topics that advance sleep medicine and ultimately improve patient outcomes. Projects must also demonstrate how it will have a positive impact on the lung and/or sleep health of a community.
The AASM Foundation is partnering with the Sleep Research Society Foundation to provide seed funding to support training and research of trainees and early career investigators who otherwise do not have the institutional resources to support new studies and/or do not have a sustained record of external funding. The Small Research Grant Program is administer by the Sleep Research Society Foundation.