Sleep Champion Award
The Sleep Champion Award celebrates successful community-based sleep health services and education provided by non-profit organizations. AASM members are encouraged to nominate organizations that provide best-in-class care and/or education in the sleep community. The organization selected for the Sleep Champion Award will receive $5,000, in addition to a travel award for a representative to attend a future SLEEP meeting and accept the award in person at a special event.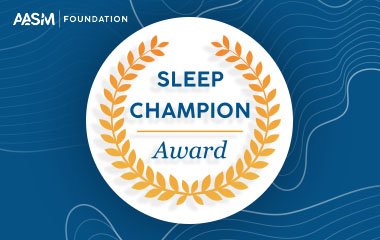 | | |
| --- | --- |
| Issue Date: | January 4, 2021 |
| Nominations Due Date: | February 15, 2021 |
| Award Selection Notification: | By April 30, 2021 |
| Amount of Award: | $5,000 in funds to support sleep health and/or education services and complimentary registration for a representative to attend the SLEEP 2021 Virtual Meeting |
2020 Sleep Champion Award Recipient
Sweet Dreamzzz, Inc.
Farmington, Michigan
For two decades, Sweet Dreamzzz has shared the AASM Foundation's vision of healthier lives through better sleep, and the organization has been a pioneer in developing impactful, replicable, and sustainable sleep health education programming for low-income children and families.
"Sweet Dreamzzz truly embodies the spirit of the Sleep Champion Award and is well-positioned to help lead the country forward as we continue to break barriers to healthy sleep."
Ronald D. Chervin, MD, MS
University of Michigan, Ann Arbor
Michael S. Aldrich Collegiate Professor of Sleep Medicine, and Director of the Sleep Disorders Center
"We acknowledge and appreciate this honor and want you to know that award funds will allow us to continue to help disadvantaged children fulfill a basic need that is often undervalued and overlooked – a good night's sleep."
Louise Derry
Director of Grants and Community Engagement, Sweet Dreamzzz, Inc.