Sleep Champion Award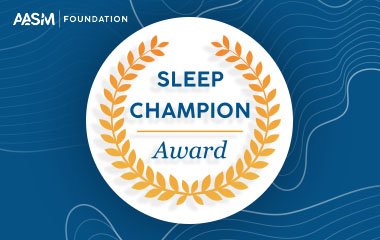 Now accepting nominations!
| | |
| --- | --- |
| Next Issue Date: | January 3, 2022 |
| Next Nomination Due Date: | February 7, 2022 by 11:59 pm ET |
| Next Award Selection Notification: | By April 29, 2022 |
| Amount of Award: | $5,000 in funds to support sleep health and/or education services and complimentary registration for a representative to attend the SLEEP 2022 Meeting |
The Sleep Champion Award celebrates successful community-based sleep health services and education provided by non-profit organizations. AASM members are encouraged to nominate organizations that provide best-in-class care and/or education in the sleep community. The organization selected for the Sleep Champion Award will receive $5,000, in addition to a travel award for a representative to attend a future SLEEP meeting and accept the award in person at a special event.
About the Sleep Champion Award
2021 Sleep Champion Award Recipient
Start School Later, Inc.
Severna Park, Maryland
Start School Later is a coalition of health professionals, sleep scientists, educators, parents, students, and other concerned citizens dedicated to increasing public awareness about the relationship between sleep and school hours and to ensuring school start times take into account the health, safety, education, and equity of students.
"In the nearly six years I have collaborated with SSL/Healthy Hours, I have seen their singular devotion to promoting a culture of healthy sleep across the United States. The SSL/Healthy Hours team has a broad vision and a dedicated group of volunteers who know how to make things happen."
Stuart F. Quan, M.D.
Gerald E. McGinnis Professor of Sleep Medicine, Harvard Medical School
Senior Physician, Division of Sleep and Circadian Disorders, Brigham & Women's Hospital